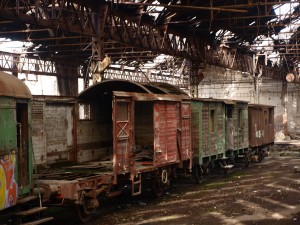 Whenever you hear the words ghost town, zone, or stalker, you immediately think of Chernobyl or some other distant soviet ruins. It might be surprising to many, that such places exist in our own vicinity, inside the borders of Budapest. 
 One of the most well known ghost sites is the Istvántelek train depot. Although it is one of the most spectacular scenes of this city, you definitely won't find it in Trip Advisor. This train depot has been abandoned for decades with countless ancient steam locomotives left to rot on the tracks.
Sunlight patches the interior, as it pours in through the gaps in the roof, and plants grow among the corroded ruins of steel frames. You bump into torn seats and unburnt coal still may be found left in the steam engines. Neither destroyed nor maintained, these practically undiscovered relics are the city's hidden treasure.
Picture taken by Barczi Tamás