"Music expresses that which cannot be put into words."
/Victor Hugo/
As a singer I am convinced of the significance of music, but I have always been curious about its objective power in various aspects of life. I am amazed by the fact that music not only enchants one for a short period of time, but it is also able to influence one's social and political attitude. The anthems are important proofs of this concept since they are significant factors in constructing national identity. Similarly, the music of advertisements affects economic indexes, and musicians and songs have had a crucial role in influencing political campaigns.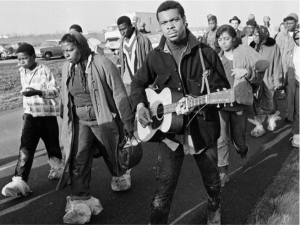 But what if music conveys an even more important social message that still exists either overtly or hidden in American society? Highly appreciated and popular musicians have felt it important to dedicate their art to emphasize the importance of social equality among people in the US. During the Civil Rights Movement the most famous musicians (such as Jimi Hendrix, Curtis Mayfield and Marvin Gaye) all contributed to this mission regardless of the musical genre they worked in. The main focus of my research project is the famous American activist, singer and songwriter Erykah Badu's participation in the Black Civil Rights Movement.
First let me describe the major steps of musical intervention in the discourse of the Civil Rights Movement, after which I will focus on Erykah Badu's personal participation. She is a lesser-known but extremely diverse performer in contemporary American musical life. Erykah Badu is a Grammy-award winning American soul singer and songwriter, the Queen of Neo-Soul, who participates in contemporary Civil Rights Movement, namely, in the Black Lives Matter Movement. She rejects segregation in most of her interviews, and performs on special artistic occasions and public demonstrations for racial and gender equality. There is a marked political tone in her fifth album titled New Amerykah: it tells us that Badu feels that there are issues that should be emphasized more firmly.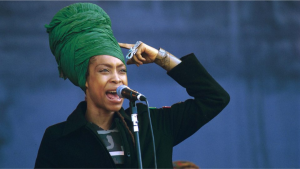 In my paper, my aim is to grasp and explain the gist of her political message, which is to fight against segregation especially in lower social classes. As a woman, I sympathize with her fight for the emancipation of women in practice, even though she mainly objects to the circumstances of black women. I hope that by writing my research project on her along with a series of blog posts I can introduce her music and mission to communities that have not recognized her extraordinary talents yet.
For the pictures, please visit the following:
http://www.ecogentleman.com/
http://erykah-badu.com/